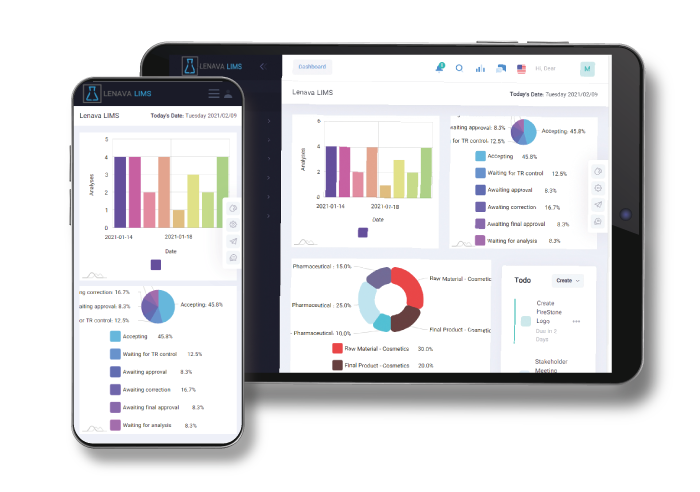 What is a Laboratory Information Management System?
A LIMS (Laboratory Information Management System) helps you to better facilitate the flow of samples and data in the lab, using the most up-to-date technologies and features in a software form. A LIMS aids in the standardization of operations, testing, and processes while also providing reliable process controls. Devices may be incorporated into the LIMS to streamline the gathering of the testing datasets while also guaranteeing that they are correctly calibrated and only used by qualified individuals.
People utilize a LIMS to 'become paperless' because of the system's inspection and revision control mechanisms. Modifications to findings and any updates to the test protocol, equipment, and chemicals employed are noted, unlike in a spreadsheet. This transparency helps the lab to improve in every stage.
Key Benefits of a LIMS
In addition to tracking and managing samples, LIMS can also perform many other jobs. It can:
Automate workflows to reduce human error
Organize quality control data access and storage
Provide compliance support
Keep track of reagents and lots
Monitor instrument run status
Conduct a downstream analysis of the data
Enhance lab productivity by integrating instruments or other in-lab systems
…The main aim of a LIMS is to recover lab efficiency and accuracy by reducing manual operations. A LIMS system will perform a range of core functions.

Laboratory Information Management System and Its Features
In Sample Management, Laboratory Information Management Systems are often used to retain adequate data of each sample. When a sample is developed or initially comes into the laboratory, extensive data may be captured, which can be updated and increased during its lifespan. This usually contains the sample's origin, the identities of the lab experts that worked on it, and the steps in the process it went through. It also contains instructions about how to keep it and any expiry dates. By storing this data in a LIMS, the chance of a sample getting lost, infected, or expired is reduced to none.
Workflow – Significant process metrics are shown in a range of graphs and tables formats using customizable user interfaces. These panels may be customized to meet the demands of any user position, such as laboratory directors, analysts, and quality assurance professionals.
Visualization – Powerful search and display features help you make better data-driven decisions. For quick monitoring of laboratory operations and outcomes, straightforward user-definable interfaces present useful data in tables and graphs. Continuous improvement and quality assurance are aided by built-in capabilities to chart and detect data patterns, as well as statistical analysis.
Stability Management – Stability Study Management features are very adaptable, allowing you to organize and handle all associated activity throughout a complete study using one or more protocols. Stock and shelf space maintenance, periodic checks, task allocation, sample chain of responsibility, results entering, evaluation and analysis are all Laboratory Information Management System (LIMS) features.
Lenava LIMS
If you're looking for Laboratory Information Management Systems, you need to ask yourself how to get them. Thanks to Lenava LIMS, this procedure is made easy for you and your laboratory.
As It is first necessary to identify your needs and basic demands, you may need to consult an expert for advice. Our service of free consultation and guidance is available to you. Call us with any questions you have, and our expert consultants will provide the information you require.